Advance Power Inc. Insulating Ceramic Coatings
Reduce Your Home and Business Energy Consumption
---
You're Hot? We're Not!
Cool Roof Rating Council tested API Ceramic coatings and certified that our coatings passed all tests. API Ceramic coatings are California title 24 compliant and exceeded California title 24 test requirements. API ceramic coatings are also Leed certified. API Ceramic coatings are also Energy Star certified and exceed Energy Star requirements.

Ceramic Paint Quality Control Example
Ceramic Paint Certification Requirements

Last fall we painted our entire new building with ceramic paint. The roof coat was much thicker than the wall coat. This ceramic paint is incredible. Thousands of microscopic ceramic particles in every square inch. Ceramics have the highest insulation values known. Before we painted our huge roll up doors (big enough to drive a semi through), they would radiate heat 20 feet away. They were like a blast furnace in the summer. Now you can stand right next to them and barely feel the heat. The hotter it gets the higher the insulation value. The roof coat is the roof and can be applied directly over the roof sheathing without another layer needed. This paint creates an elastic membrane that expands and contracts with the structure. This is especially important for cement or stucco buildings that tend to crack as they age. Plus the paint is environmently friendly, water based and simple to clean up. Turn down your air conditioner and go ceramic products from Advance Power Company. API Ceramic Roof Coating: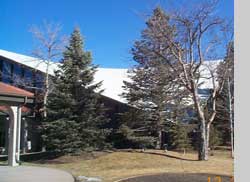 Ceramic Roof Coatings are highly efficient, energy-saving, flexible coatings, made from a water-based pure acrylic resin system filled with vacuumed sodium borosilicate ceramic micro spheres of less than 100 microns in size. Each micro sphere acts as a sealed cell and the entire mastic acts as a thermally efficient blanket covering the entire structure. These coatings are non-toxic, friendly to the environment, and form a monolithic (seamless) membrane that bridges hairline cracks. They are completely washable and resist many harsh chemicals. API Roof Coats have high reflectance and high emissivity as well as a very low conductivity value. API Roof Coats greatly reduce thermal shock and heat penetration by keeping roof surfaces much cooler in hot summer weather. They offer UV protection and low VOC's. They display excellent dirt pick-up resistance and retain their flexibility after aging. API Ceramic Roof Coats reduce noise transmission and have an effective use range from -40 Deg C (-40 Deg F) to 375 Deg C (700 Deg F).




API Ceramic Stucco Coating: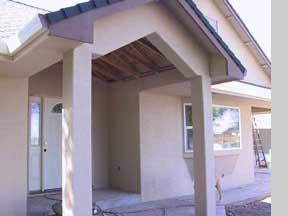 The API Ceramic Texture Coat is a water base protective coating that can be applied in place of paint, and as an alternative to the conventional and often costly three and more part stucco texture systems. This unique wall coating can be applied quickly, is much less labor intensive and provides an effective and durable thermal barrier. The base and finish coats incorporate hollow borosilicate ceramic micro spheres. These micro spheres reflect, refract and dissipate heat away from the coated surface. The formula also incorporates a 100% acrylic polymer resin that allows the transmission of water vapor to escape, thus reducing moisture build-up in the wall assembly. This flexible stucco coating bridges hairline cracks and prevents the development of new ones.
---
API Ceramic Coatings Price List:
| | | |
| --- | --- | --- |
| Description: | Size: | Price: |
| API Ceramic Roof Coatings | 5 Gallons | $340.00 |
| API Ceramic Wall Coatings | 5 Gallons | $300.00 |
---
Comments ()